NASCAR is one of the most popular sports. There are a lot of motorsports but NASCAR has remained every green in terms of popularity in the United States. It is a sport with an absolutely rich history and tradition. It has been around for almost 60 years now but the level of excitement among the audience is still the same. If you are someone who's a hardcore fan of NASCAR but you do not have cable, don't be sad because you can still watch matches without having cable access. So in this article, we will be discussing how you can watch NASCAR without cable. So make sure that you stick around till the very end and you will find out how you can enjoy your matches without cable.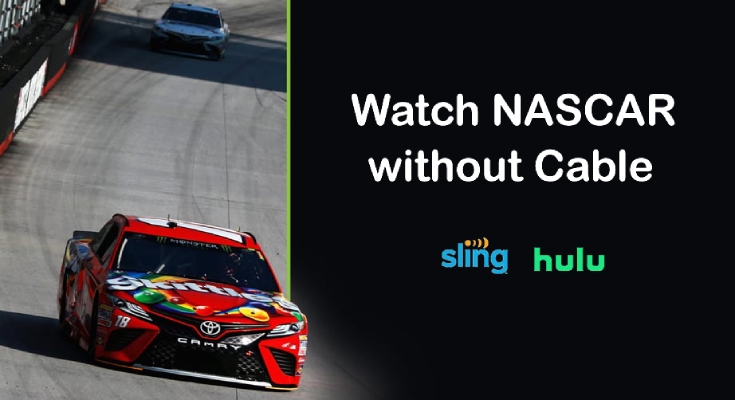 Now to watch NASCAR without cable you have to first figure out which channels they air on. And then you can find out the best ways to get them. The most affordable way to watch NASCAR is with the help of an air antenna. Now if you observe the majority of the races air on Fox and FS1. Some races also air on NBC, NBC Sports, and the USA network. The antenna is the best way to watch NASCAR which air on Fox and NBC. Specifically in 2023, 21 Nascar series races will officially air on either Nascar or NBC. Whereas 11 races will air on Fox. So now we know that the biggest races will be available on broadcast networks which you can watch with the help of an antenna or live TV streaming service which includes these local channels. If you live in a rural area where you do not have any broadcast tower if you are okay with only watching races that air on NBC then you can watch NASCAR on Peacock which is NBC's streaming service.
How to watch NASCAR on Peacock?
Peacock is NASCAR's official streaming service. Peacock offers two plans. The first plan is 'Premium' and the second plan is 'Premium Plus'. So now we will break down these two plans for you so that if you are interested you can choose between these two plans. So go through the details of the premium and the premium plus plans and then go for whichever plan is the most convenient and suitable for you.
1. Peacock's Premium Plan
The peacock's premium plan is priced at $4.99. You can stream around 80,000 plus hours when you opt for a premium plan. With the premium plan, you get to stream Live sports and events, new movies, hit shows, originals, etc. But the only drawback of the premium is that you will be interrupted by ads and you will not be able to download and watch your favorite shows offline. But you can watch NASCAR that too just at $4.99. So if you don't mind ads and if this plan suits you then this is a great deal.
2. Peacock's Premium Plus Plan
The Peacock's Premium Plus Plan is priced at $9.99 per month. This premium plus plan is almost similar to the premium plan as it offers 80,000 plus hours, live sports and events, newly released movies, hit shows, etc. But the only major difference is that with the premium plus plan, you will not be interrupted by ads. Also, the premium plus plan enables you to download your favorite movies and shows and watch them offline. So if you opt for the premium plus plan you can just sit back relax and watch NASCAR without any interruption!
Watching Nascar with the help of an Antenna
If you live somewhere where that has really good antenna reception then going for an antenna will be a better choice for you. This is because for the antenna you will have to pay a one-time cost to buy the antenna and then you will get access to all of your local channels including Fox, NBC, etc that too free for life.
Watching Nascar through live Streaming TV services
Watching Nascar through live TV services (YouTube TV, Hulu live, Fubo TV and DirecTV)
If you want to want to live stream Nascar races airing on specifically FS1 or USA network then for that you will need a live TV streaming service. In 2024 some races will be aired on CNBC. So if you want to watch all matches then you will have to make sure that you have access to CNBC through a live TV streaming service. You can also watch these on YOUTUBE TV, HULU live, FuboTV, and DirecTV stream. These have all local channels including Fox and NBC as well. So if you want to replace your cable completely then these are the best options available in the market. The DirecTV stream is priced at $75, the fuboTV is priced at $75 per month as well. Comparatively, Hulu TV is cheaper as it is priced at $70 per month. The cheapest of all is YOUTUBE TV which is priced at $65 per month only. These prices can vary so for an accurate price visit their official websites.
Watching Nascar with the help of Sling TV
Watching Nascar with the help of Sling TV (Sling TV's Blue package) –
Apart from these, there's one more option which is Sling TV. The sling TV's blue package is priced at $40 per month. This package includes CNBC, FS1, and the USA network. Now you have to note that the slings blue package also includes NBC and Fox but in only a few selected cities. Now another option that most people are curious about is Nascar mobile app. People think that you can watch NASCAR races for free on NASCAR's mobile app. But that's not the case as you can only download the NASCAR app for free but to watch NASCAR races you will have to pay and these do not come for free. It has a free and a premium version. The free version offers news stories about races and drivers video clips but these include ads. You can also check the NASCAR schedule on the free version.
The premium version of the app includes the things that are available on the free version and in addition to that, it also includes scanner audio that lets you listen to uncensored driver spotter and crew chief audio. You also get a picture-in-picture feature that lets you watch videos while you browse other things on the app simultaneously. Also, there are no ads so you can watch videos without any interference. Now the price is either $5 a month or $29.99 for the entire season. But the biggest drawback is that it does not include the live broadcast of the races. But if you are a NASCAR hardcore fan then you can go for this. 
So we can conclude that the cheapest way to watch NASCAR is through the antenna and if you want to watch all the races then the live TV streaming services mentioned above could be the best choices to opt for!